Lalamove provides on-demand and same-day delivery services to connect your business with its delivery drivers which have different types of courier capacity such as Bike (Motorcycle), Car, Van and 4 x 4.
Note: Lalamove delivery is also subject to the coverage and area availability within Klang Valley, Penang, and Johor (selected areas).
Integrate your Lelong.my or Webstore Pro platform with Lalamove for smart order fulfillment. Follow the step by step guide below to integrate your store with Lalamove easily :
Step 1: Register Lalamove Business Account
Fill in Lalamove Business Sign Up Form.
Once done with account registration, you may reach out Lalamove customer support to request the API key. While requesting API key you will need to provide our integrator name "Webstore Pro" to Lalamove. You may contact them via :-
OR
The API key will update to the merchant registered email with Lalamove.
3. Once account is activated, log in to your Lalamove Business account.
NOTE : Kindly topup your Lalamove wallet to proceed with the parcel shipment.
Click "Wallet" on top of the page.
Click "Top Up".
Choose your desired amount : RM 100, RM 200, RM 500, RM 800, RM 1000, & RM 3000.
Select your payment method: Credit Card or Debit Card.
Input your Credit Card / Debit Card Info.
Double check the info, then click "Pay".
Step 2 : Setting Up Lalamove Integration in Webstore Pro / Lelong.my
1. In Seller Dashboard, go to "N. API Setup" and click on "5. Lalamove".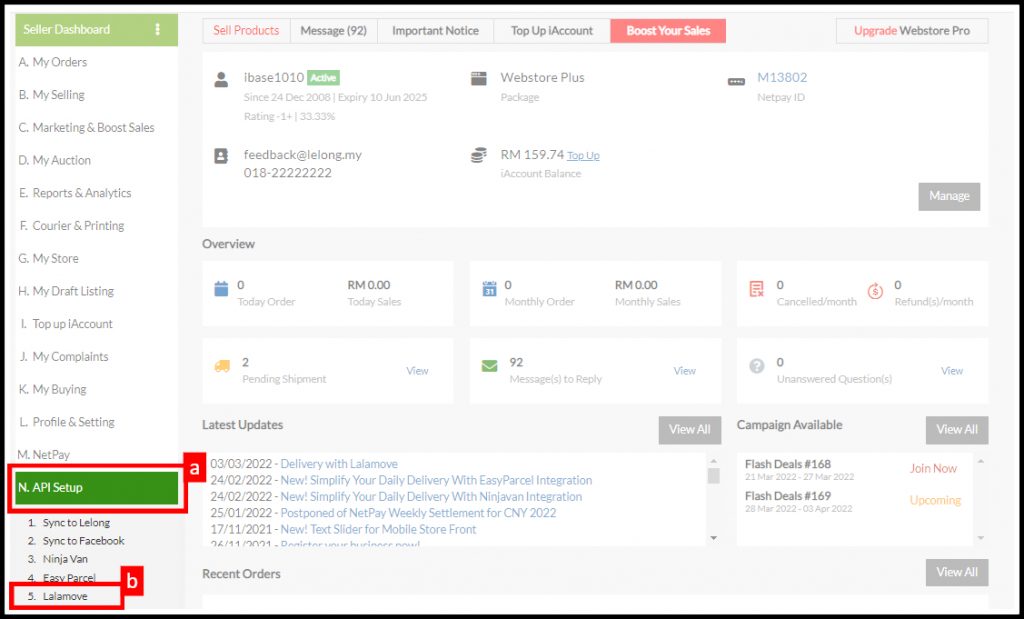 2. You will be directed to Lalamove API setup page.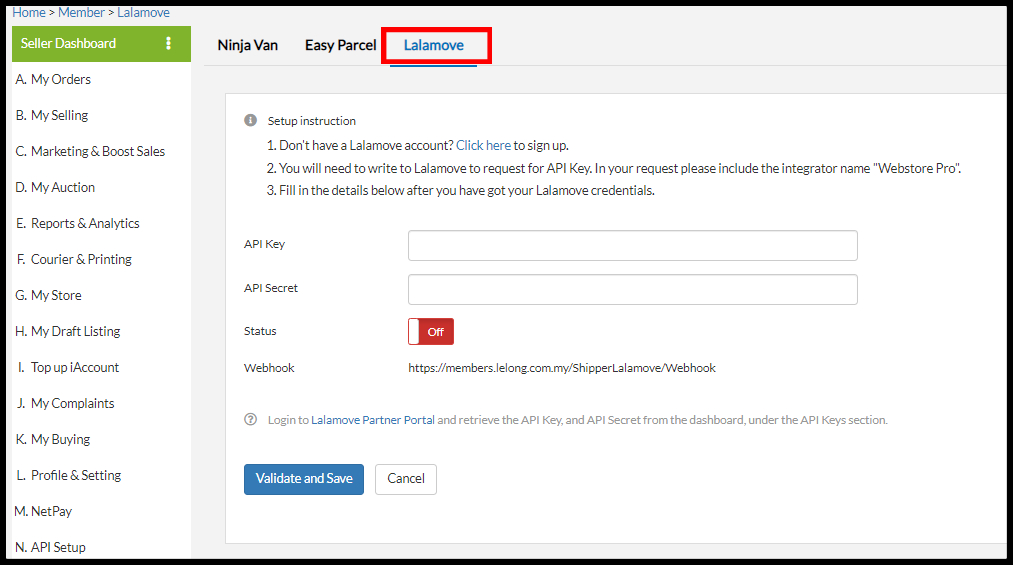 3. Paste your API Key and API Secret. Toggle Status to "On" to enable the option.
NOTE: You may check your API Key and API Secret Key in your registered email with Lalamove.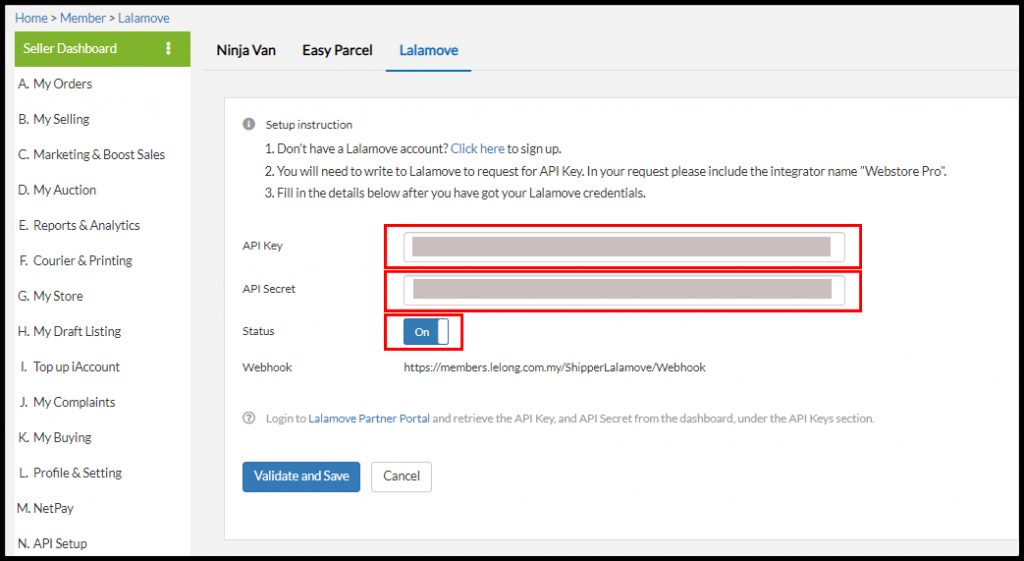 4. Click the "Validate and Save" button to update.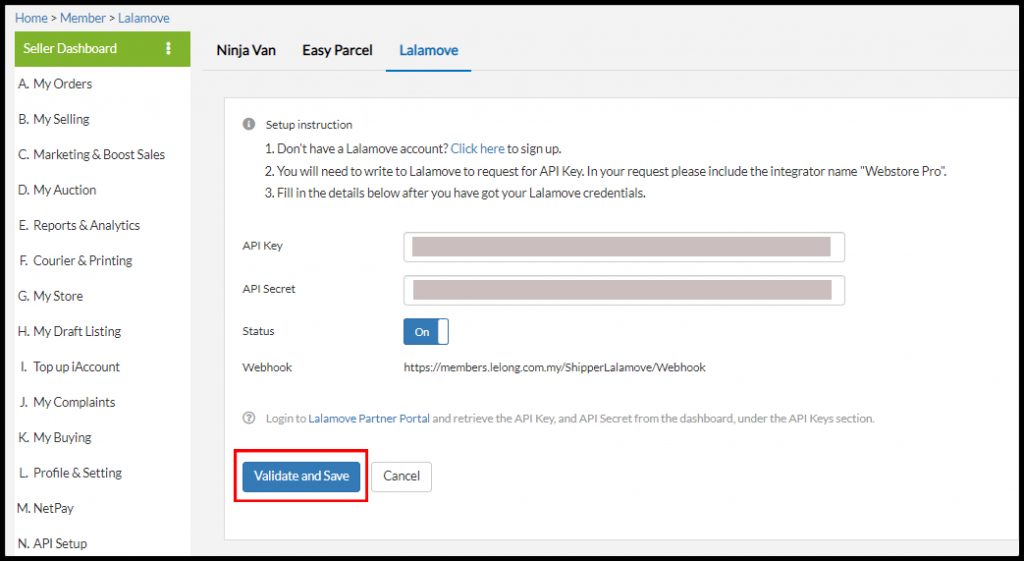 Step 3: Arrange Shipment
NOTE: Kindly contact you buyer to confirm the delivery details such as date and time. Also, kindly ensure the parcel are packed securely before the driver picks up the parcel(s).
After the customer paid, you may proceed arrange the shipment. Go to A. My Orders > All Orders. Then, click Update Shipment to which order id you wish to update the tracking number.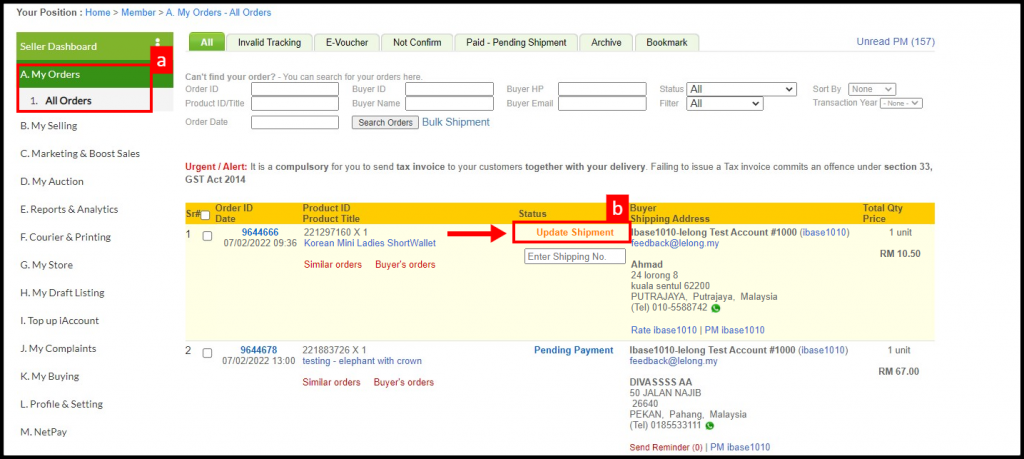 2. Under Lalamove section, select suitable Service Type with your parcel:
Motorcycle
Car
Van
4×4
1-Ton Lorry
3-Ton Lorry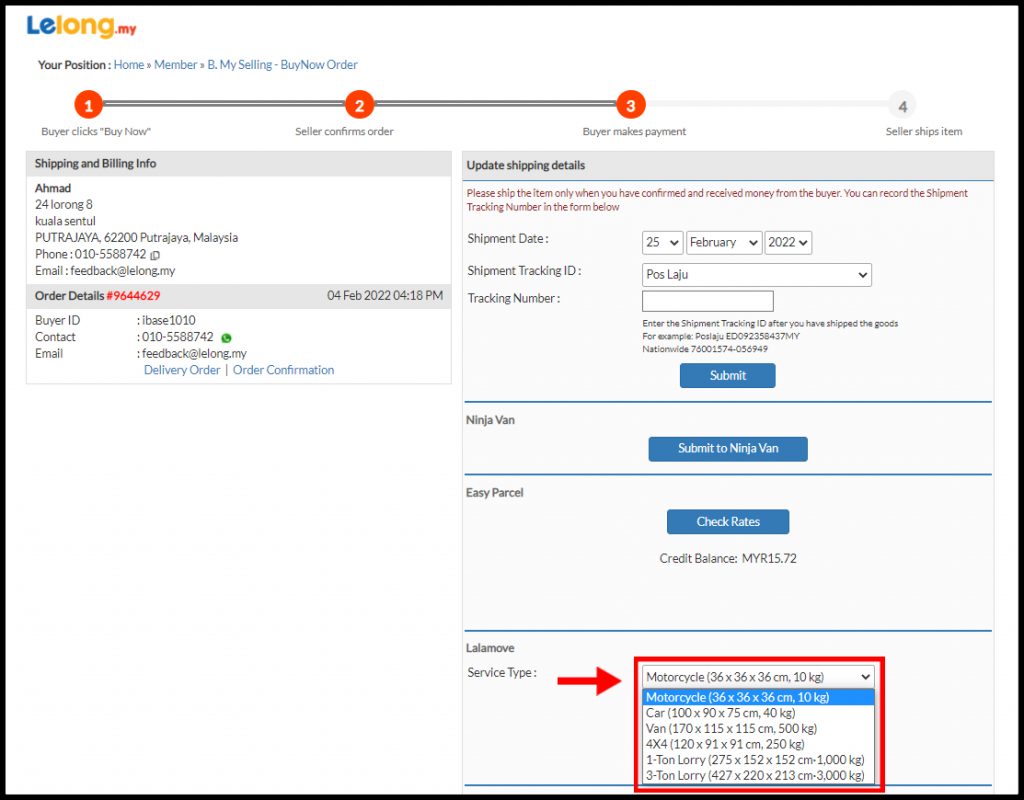 3. Once confirmed, click "Get Quotation" button.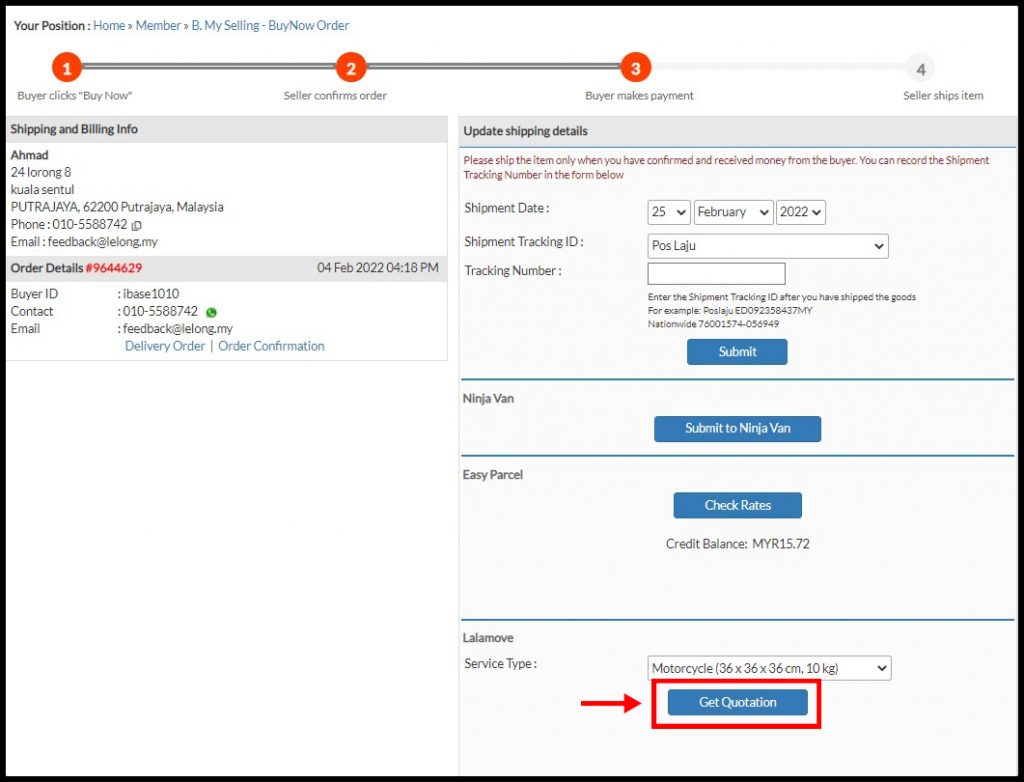 4. The shipping fee will auto calculate. Once confirmed, click "Book & Pay".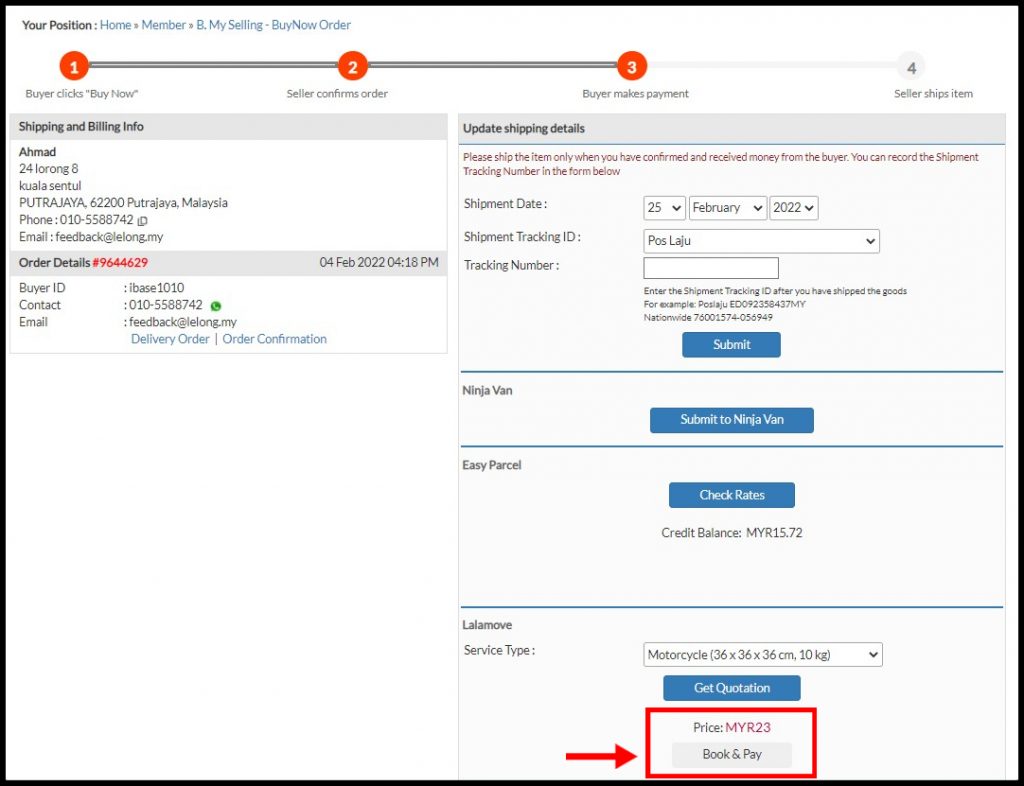 5. The Lalamove Order ID was successfully updated.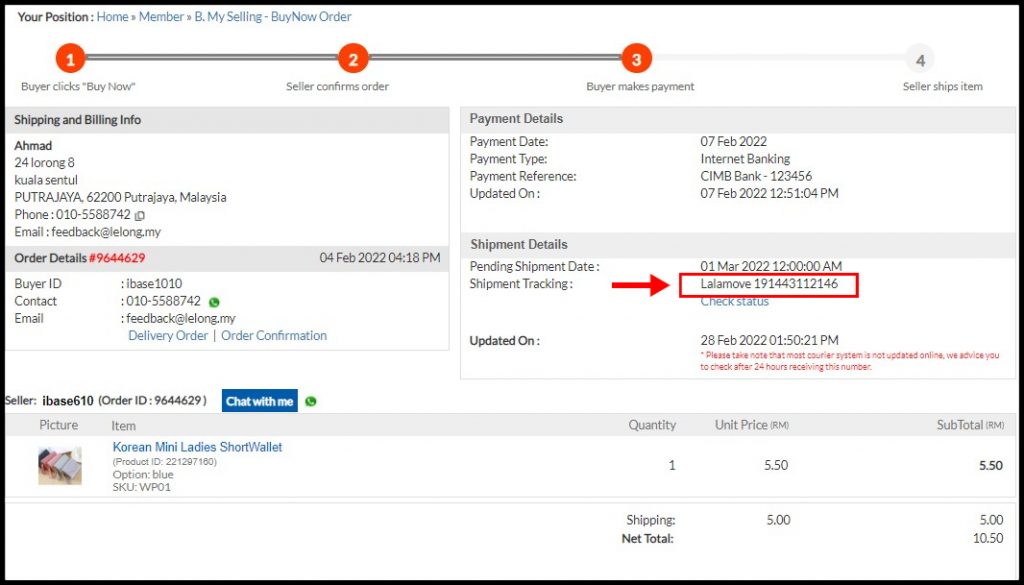 6. Click "Check Status" button to view Status of Delivery and Driver's Details (Name, Phone Number, Vehicle Plate No & Photo).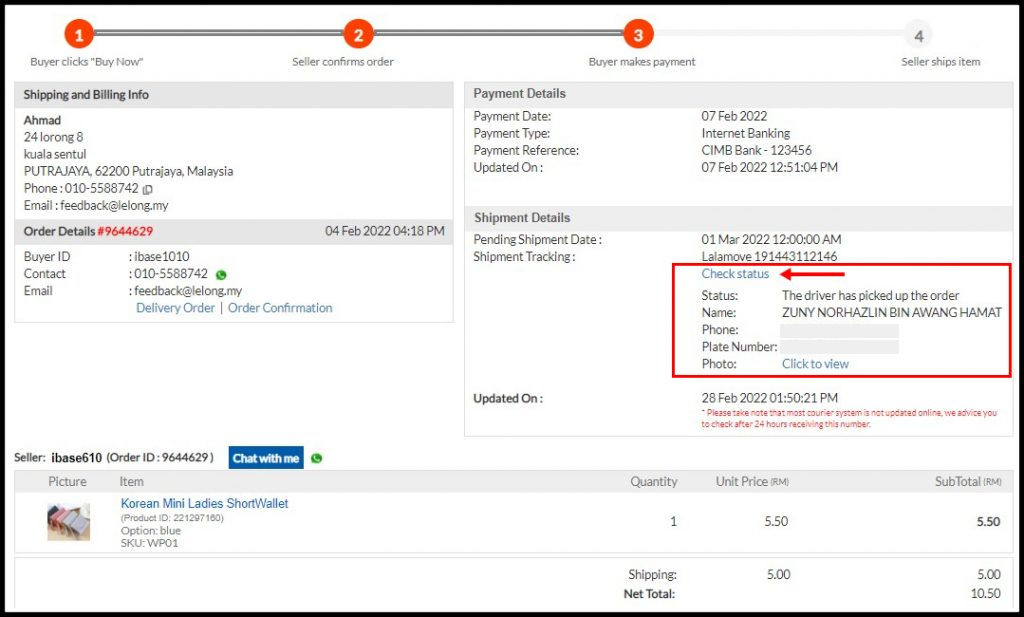 NOTE: The pick-up address and phone number of sender's is followed by details updated in Lelong.my account. The details can be found L. Profile & Setting > 1. Personal Details : Default Address and Mobile.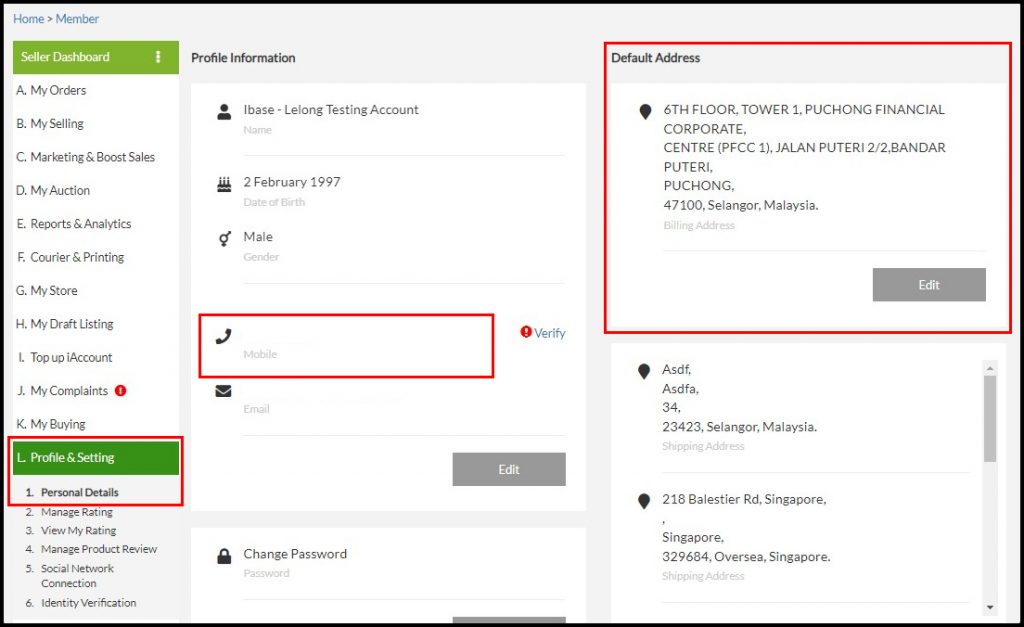 How to Track Shipment Status in Lalamove
1. Login to your Lalamove account and select tab Records.

2. Select the records that you would like to view.

3. The details of the parcel will be displayed as below: