The following is the calculation of Netpay Settlement. (Below is the sample of settlement details that you will received via email from Netpay).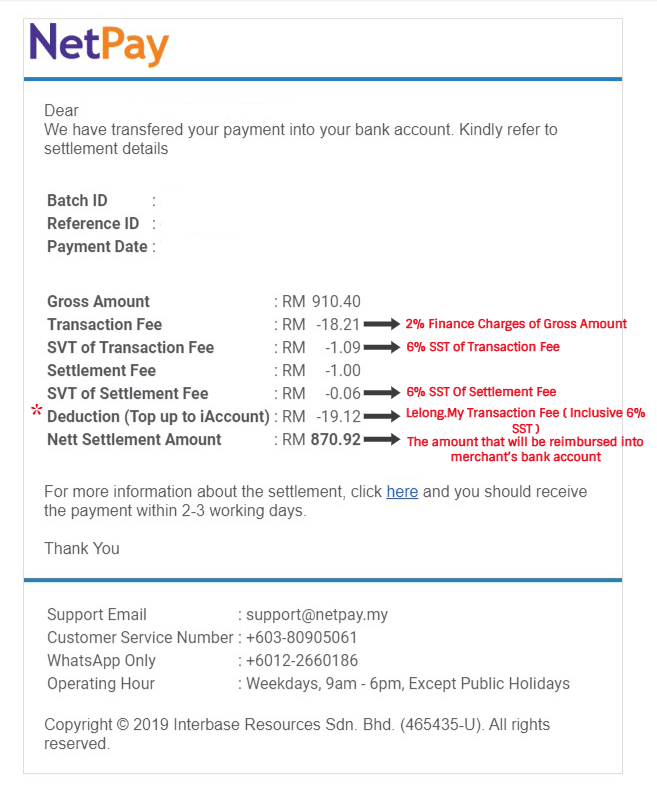 *Deduction (Top up to iAccount)
Importance Notes
Mininum settlement amount is RM 100. By default, every merchant will receive settlement once per week and it is fixed on every Wednesday. If the settlement amount less than RM 100, the amount will accumulated to the following weeks until reached RM 100 for Netpay to release your settlement. However, if it is too long and you need to release it, you may email to Netpay (support@netpay.my) * This is not available for International merchant
Payment will be available for settlement after 7 calendar days from the date the shipment is updated. The payment will only process with valid shipment tracking details.
The payout will be reimbursed via direct bank transfer into merchant's dedicated bank account. The floating period of such transfer is within 2-3 working days, and it is subject to the merchant's financial provider/ bank.
For more details on Netpay Settlement, kindly refer to 'Netpay Settlement'.