You wish to make a newsletter or promotion page to your buyers? Now, you can easily do so by creating a promo page as sub page of your store. This promo page helps to make your audience aware of your brand or products and other significant information. Also, it helps in increasing the amount of incoming traffic to your webstore. You can make your own content such as:
Promotional Newsletter,
New Product Announcement,
Event Invitations,
Seasonal Holiday Greetings,
Frequently Ask Questions (FAQ's) and more
NEW UPDATE! : Alert Feature (Webstore Pro Only)
How to Create the Promo Page?
Go to G. My Store > 3. Store Setting > Choose Promo Page > Click Add New Page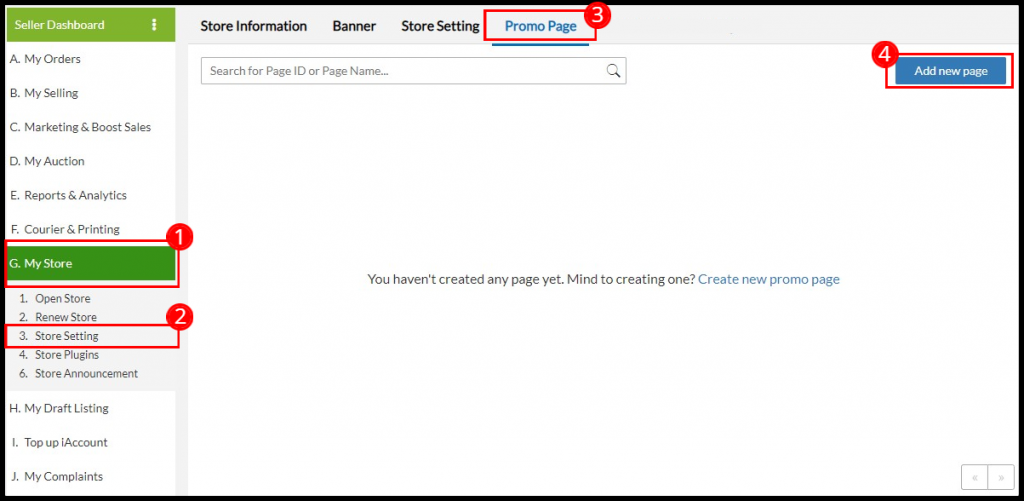 2. Fill in the necessary details in the fields:
Key in your page name and description
Select your page status as "Active".
Other status means for:

Suspended : Customized page suspended by the admin due to violation reason: prohibited listing, counterfeit, IP infringement, spam issue, or others.
Hide : Hide your promo paged temporarily without losing the information and details.
Delete : If you want to take down the promo page from your store, you can choose to delete it.
Set a start and end date for your promo page to be published.
Insert your content in HTML format under Desktop or Mobile Version. You will be able to insert images, banners, or even embed videos into this area:
Upload your image(s) or video(s) to hosting service provider. For example:
Javascript, CSS and etc is not allowed.
Banner(s) are not allowed linked out to external party.
Maximum width is 1200px.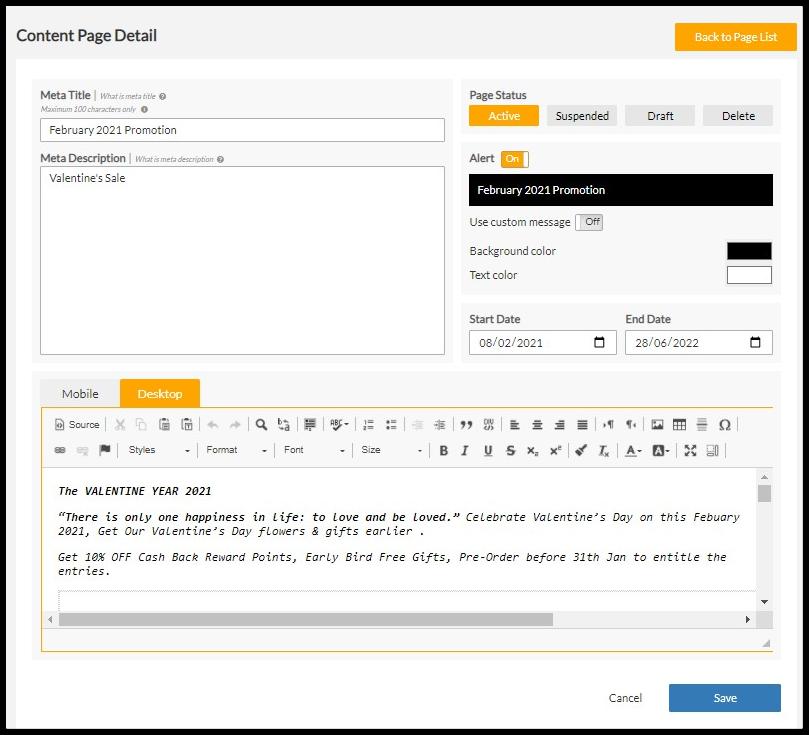 3. Once done, click on "Add Topic".
4. Your promo page is now published.
You can share your promo pages from your site anytime by post our page's URL on social media or sending it to those who you want to see your page.
To copy and paste promo page URLs, kindly follow these steps:
Click "Copy URL" of your promo page.
Paste and share the promo page URL's via your social media platforms such as Facebook, Twitter, Instagram, WhatsApp and more to share the content.
To manage your Promo Page, kindly refer HERE