*NEW*

You can also engage us directly to handle the boosting for you, do email to vendor@lelong.com.my for discussion. (with minimum budget) 
What is feature and boost?
Feature and Boost is one of the features that helps to increase your item ranking. It gives exposure to the appearance of your product in Lelong.my so that you can generate more sales.
How much does it cost?
Featured in Category: RM 0.15 / posting /day
Featured in Front Page: RM 0.40 / posting / day
Boost your product in search ranking :
– Minimum RM 1 / posting / day (For boost duration less than 6 days and with featured in front page activated )
– Minimum RM 0.10 / posting / day (With featured in front page activated and for boost duration 10 days and above )
– Minimum RM 5 / posting / day (Without activate feature in front page)


Tips:

The more you pay for the boost fees, the higher your product will be ranked in search.
Where will my product be displayed?
Featured in Category : Your product will display on top of the listing under category page on rotational basis.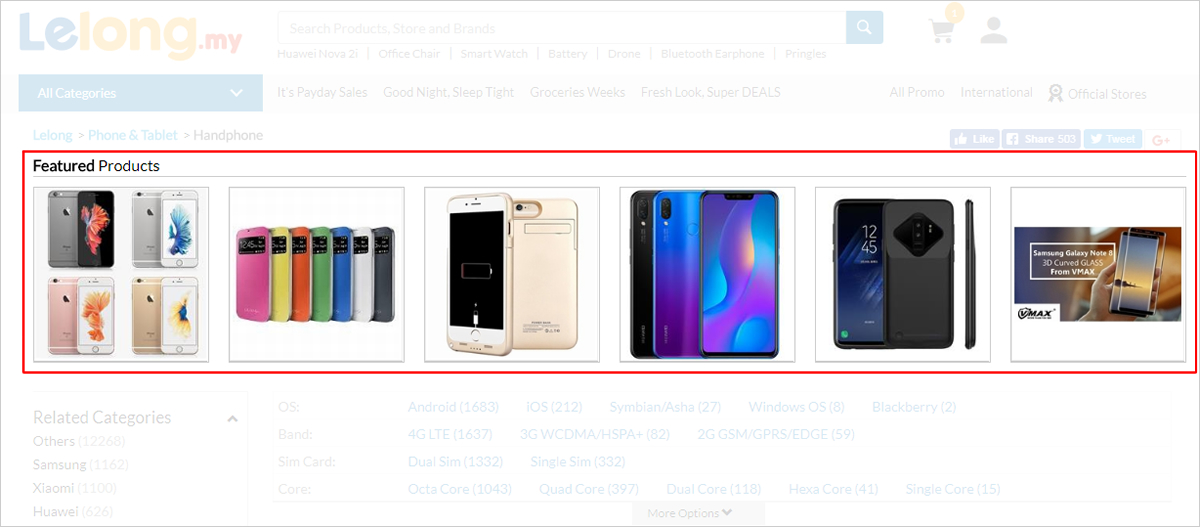 Featured in Front page : Your product will displayed under "Featured Product" section on a rotational basis.

Boost Product: Your product will be highlighted in the listing page with "Sponsored".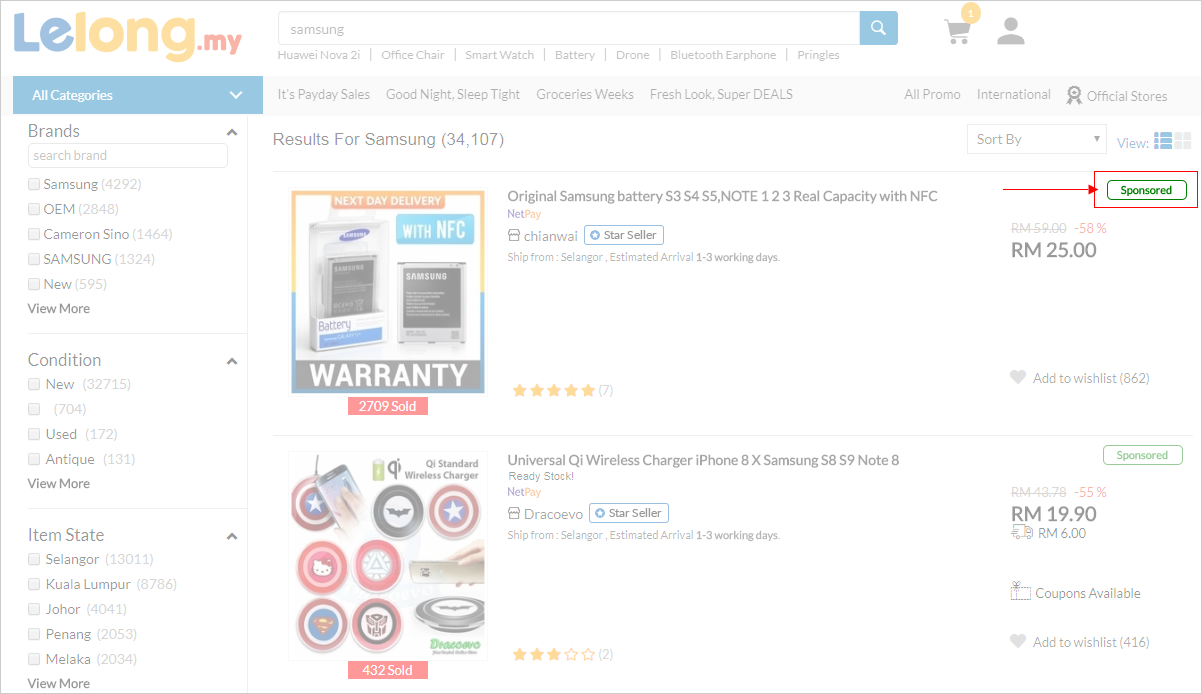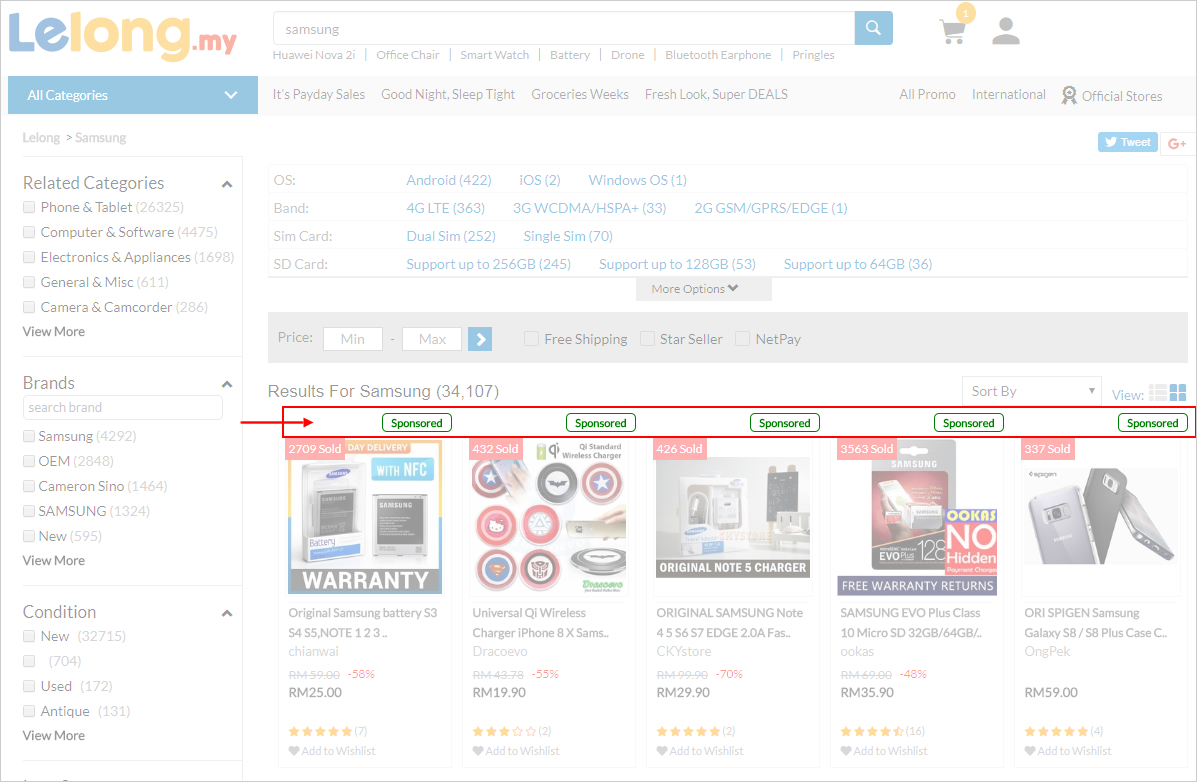 Tips: If your boost fee is more than RM5/ day, your product will display under "Recommendation For You" section on the front page on a rotational basis.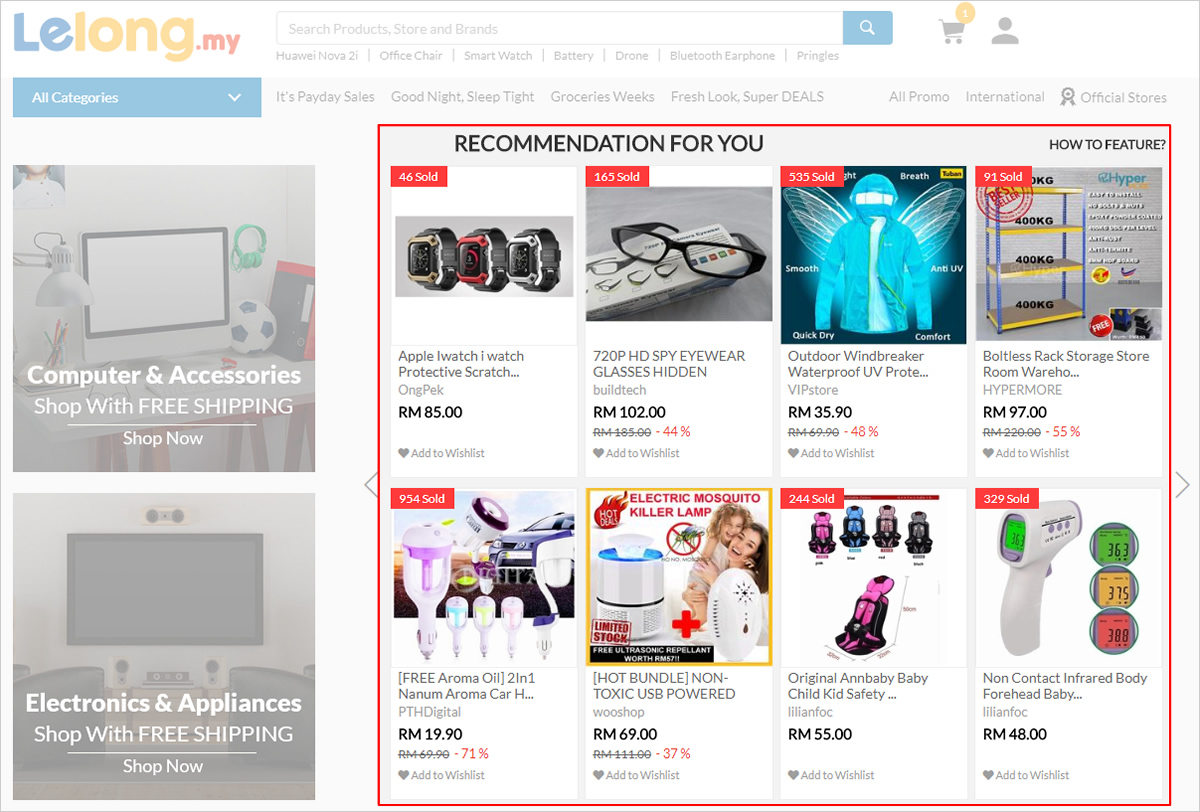 What are the requirements to boost my product in search listing?
You can boost your product as long as it is still active and in stock. The minimum amount to boost your product is RM0.10 / day ( for duration of 10 days and above) . You must activate "Featured in Front Page" first before you can boost your product.
What categories can I boost my product?
Boost feature can be used for any products from any categories in Lelong.my. We recommend that you boost your product based on the top category first in order to increase your product's sales performance.
How long can I boost or featured my product?
Minimum duration : 3 days
Maximum duration: 350 days
How do I pay for my boost or feature?
The fees will be deducted from your iAccount. Make sure your iAccount has sufficient amount to pay for your boost fees. The system will calculate the total boost fees you need to pay.
Read more for How to top up your iAccount.
How do I boost my product?
Step 1: Go to C. Marketing & Boost Sales and click 1. Boost Listing.

Step 2: Go to B. My Selling and select 3. Edit Listing.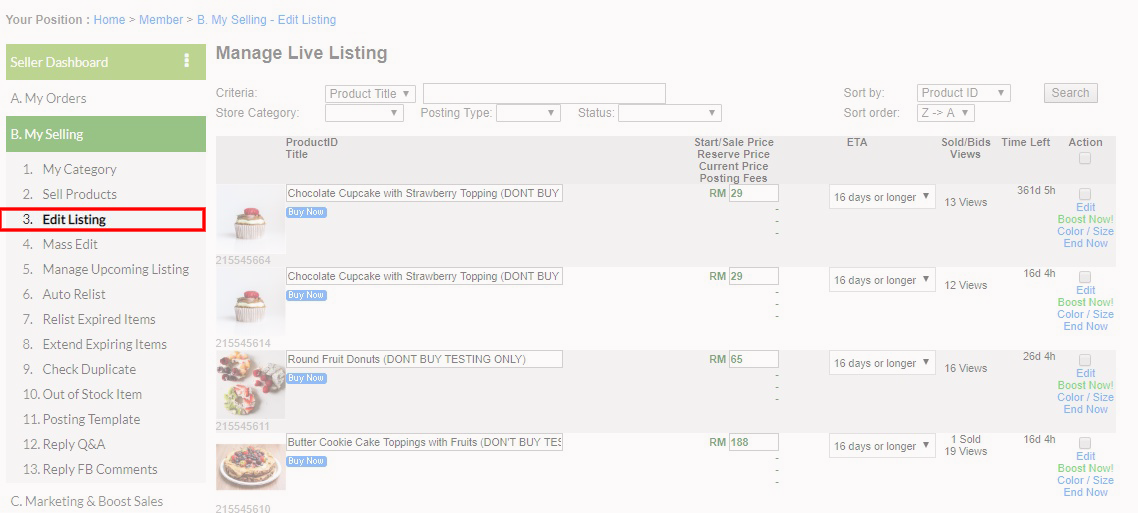 Step 2: Choose the product you want to boost then in the column Action, click on Boost Now!

Step 3:
a) Enter the amount you want to pay.
b) Choose the duration to boost your item.
c) Then click on the Boost button.

Important Note:
Kindly take note that boost fees are not refundable once items are posted even if you cancel your posting or bidders did not pay up. We treat it as advertisement fee.
Where can I see my product performance?
Currently, we are upgrading our system to give full satisfaction to our sellers. We will introduce a new Boost Hub for sellers to see their product performance including the product status.
How do I manage my items?
You can manage your boosted items by using the Boost Hub (coming soon) and check the performance of your boosted products.
For more enquiries, you can email us at store@lelong.com.my.
*NEW* You can also engage us directly to handle the boosting for you, do email to vendor@lelong.com.my for discussion. (with minimum budget)