Congratulations on your first sale! Right after your buyers has made the payment, you would have to know what to do to arrange the shipment for your buyers.

So in this part, we teach you how to completing your BuyNow orders.
These steps below will guide you through on what needs to be done.
1.Login into Lelong.my with your user ID and password.
2. Go to A.My Orders> 2.All Orders > Tab "Paid-Pending Shipment"

 3. Click on (a)Order ID or (b)Update Shipment to check buyer's shipment details.

 4. Prepare the item & consignment note based on the buyer's shipping details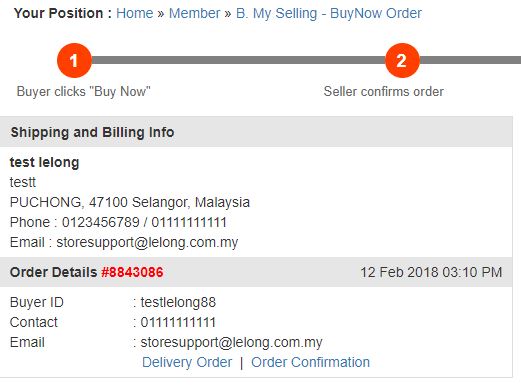 5. Once shipped out the item, you need to update the shipment tracking number in the order details.

a. Shipment Date

b. Courier Service

c. Tracking Number

d. Click "Submit"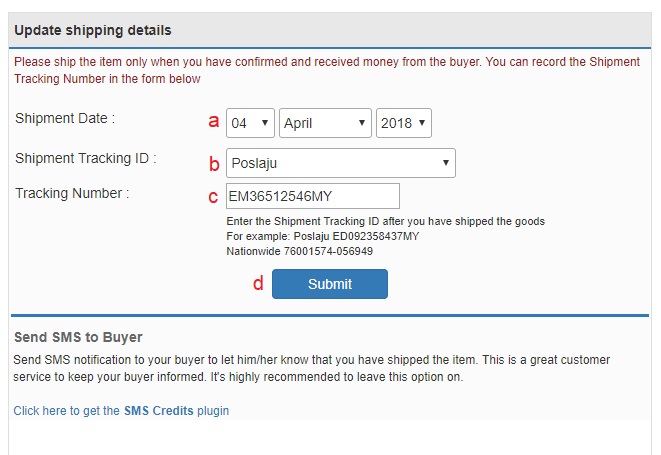 If the courier service is not in the list, you may follow these steps;
a. Shipment Date
b. Courier Service > choose "Others"
c. Key in the Courier Service name
d. Tracking Number
e. Tracking Link (Link where buyer can check the tracking number)
f. Click "Submit"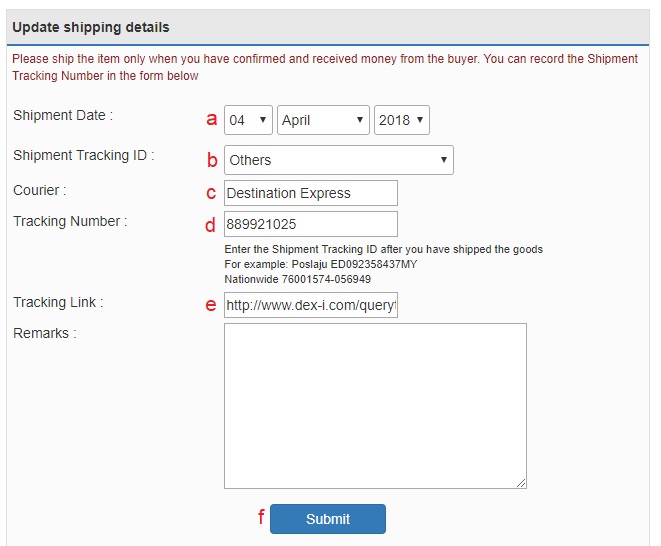 Once seller update the shipment tracking number, buyer will be notify via email.
 In certain cases where buyer directly transfer the payment to seller, seller need to validate the payment before proceed with shipment. To validate payment, refer here!
 Notes: It is compulsory for sellers to update valid shipping details. It is a serious offense if the shipping tracking is not updated, or updated with an invalid details.